Hello Monday.
November 29 2021
VA Comicon returns to the Richmond Raceway tomorrow, now on its 35th year celebrating comics, artists + fans of all things superheroes, fantasy, and beyond.
We spoke with Dan Nokes, a Maryland-based comic book creator, graphic novel artist + vendor liaison for VA Comicon. He says this twice-a-year Richmond event — once populated by mainly comic book traders, guest creators and die-hard fans — is now visited by thousands of families + cosplayers, in addition to old school fans.
Dan told us there's usually a line of visitors waiting at the entrance when the dozens of talented artisans, vendors + guests start setting up around 7 a.m. But don't worry, the convention doesn't open until 11 a.m. 
Tickets are only available online, not at the door. Adults are $10, but kids 12-and-under are free. VIP tickets are around $15. Parking is also free. 
Pro tip: Proof of vaccination is required for anyone over 12. For those younger, make sure to bring a negative COVID-19 test approved within 72 hours.
For convention beginners, check out the floor map ahead of time. The Artist's Alley is spread out throughout the facility, organized by creator. There's comic book authors, collectors, tattoo artists, photographers + even retro video game sellers. 
You can also find costumed cosplayers in one area and a dining spot to take a break and sort through your wares.
If you're a comic book connoisseur, Dan recommends stopping by the Comic Book Certification Service booth. They can teach you how they certify + grade some of your classic issues of comic books, graphic novels and even some original art if you have the signature.
Did you know some of the most well-graded comic books have sold for thousands of dollars?  
Be sure to stop and say hi to Dan while you're exploring, or check out his published work here. 
He's usually accompanied by a plush chicken, you can't miss him. 🐥
Share this story with your superhero squad.
Which superhero would you want protecting Richmond?
Wonder Woman

Captain America

Black Panther

Sailor Moon
Today
Saturday
Sunday
Monday
Wednesday
Thursday
We have a monthly guide filled with events + activities you can plan for in advance. Click the button below to bookmark ideas for upcoming date nights, family outings, and time with friends.
Weather
Biz
Traffic
Civic
Arts
Outdoors
Number
Active
Holiday
Jobs
Health
State
Featured Home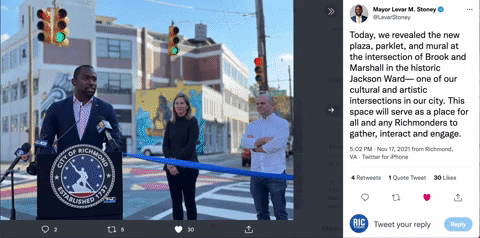 A new plaza, parklet + mural is now a main fixture at the Brook Rd. and W. Marshall St. intersection in historic Jackson Ward. 
Mayor Levar Stoney was one of many city leaders to attend the Bloomberg Project Road Mural ribbon-cutting this Wednesday. Venture Richmond and the nonprofit ART 180 teamed up on the initiative and the red + yellow Sankofa mural was designed by artist Chris Visions. 

Check out our story on how this public art was developed. 🎨
#DYK that your photos and quotes could be featured in our newsletter?
Just use #RICtoday on social media.
Talk trash with us. RVAgreen2050 is still looking for public responses for recycling initiatives to lower landfill waste in the city in their monthly flash survey. It's open through Tues., Nov. 30.

💭 Say Hello: What do you want to know about your city?

✏️️ Want to write an article for us? Find out how here.

👀 Want your business featured in our newsletter? Learn more about advertising opportunities here.

📖 Check out our Editorial Ethics Policy here.
Did a friend forward this to you?
It can be in your inbox tomorrow a.m.