Hello Sunday.
September 19 2021
Okay, the survey doesn't say anything yet. But it will. Stick with us here. This is gonna be good.

Basically, we need a little help. And when you need help, it's important to ask the right people the right questions.
Every morning you invite us into your inbox. And each day we do our very best to provide you with the timely, relevant info so you can get the most out of our great city. Sometimes that means we have to go investigate the newest rooftop bar, the latest city council news, or what's going on with that downtown development everyone is talking about. It's a tough job, but somebody's got to do it.
Today we are asking you to take 2 minutes to tell us a little more about yourself. Just 2 minutes. The line to get a morning latte takes longer than that. Feel free to skip any questions you don't want to answer. We don't want to pry. (Okay, we do, but just a little bit.) 
And 1 more thing: We will be picking 1 lucky RICtoday survey participant to win a $100 gift card. That's many, many lattes, Richmond.
Thanks in advance for your help, 
-Robin + Katie
Today
Saturday
Sunday
Monday
Tuesday
Wednesday
Thursday
We have a monthly guide filled with events + activities you can plan for in advance. Click the button below to bookmark ideas for upcoming date nights, family outings, and time with friends.
Happy birthday, Children's Museum 🎉 
The Children's Museum of Richmond was founded on the idea that the act of learning through play can help kids + families grow their imagination, social skills and inspire the youth of tomorrow.  
The museum is celebrating the big 4-0 with a celebration of live music, food, drinks + fundraising activities at its original Broad St. location starting tonight at 7 p.m.
CMoR is a nonprofit, its 40 years of play made possible by hard-working volunteers and fundraising efforts. Single tickets to the celebration are $125. You can also purchase Fund-a-Family or Legacy tickets, which supply a yearly membership to the Children's Museum for an economically-challenged family, as well as complimentary pre-party perks.
If you can't make it to tonight's party, you can still donate or volunteer at the Children's Museum of Richmond any time of year. Here's to 40 more years of fun. 🧩
Weather
Coming Soon
Biz
Development
Health
Film
Theater
Job
Cause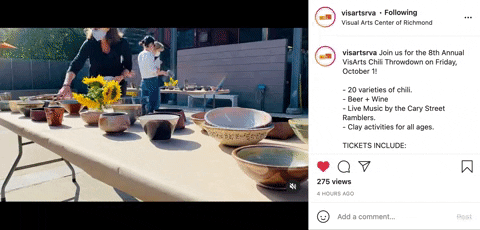 It's still weeks away, but the talents behind the Visual Arts Center of Richmond are planning + designing bowls for its upcoming Chili Throwdown 2021. Local restaurants will show off their culinary gifts in bowls made by local artisans. 
The throwdown kicks off Oct. 1, and a single $30 ticket includes a handmade ceramic bowl or mug, a drink ticket + lots of sweet and spicy chili. 😋
#DYK that your photos and quotes could be featured in our newsletter?
Just use #RICtoday on social media.
Answered:
In honor of upcoming James River Week, we asked you what you like to do by the river.

The top answers were split evenly — 38% said they like to relax on the rocks and another 38 prefer hiking + exploring. 17% were the active type, opting for kayaking, rafting, and other water sports. 8% said fishing was their favorite river activity. 🌊


💭 Say Hello: What do you want to know about your city?

✏️️ Want to write an article for us? Find out how here.

👀 Want your business featured in our newsletter? Learn more about advertising opportunities here.

📖 Check out our Editorial Ethics Policy here.
Did a friend forward this to you?
It can be in your inbox tomorrow a.m.