If you give a City Editor a Drink Up Week, she will need a special cocktail to go with it.
We met up with the maestro of mixing, Michael Hanbury, who is Tasting Room Manager at Reservoir Distillery. We first visited the facility for our roundup of eight local distilleries, which got our brains and taste buds buzzing.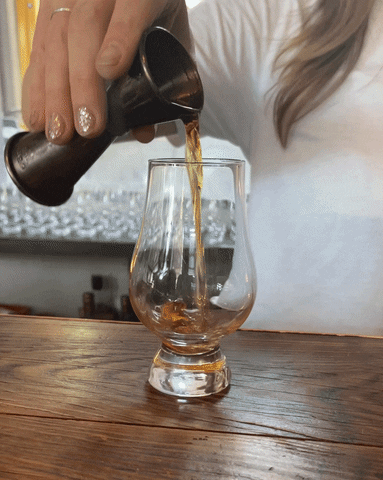 Enter: The RIC-Roll & Rye. Michael took no time developing something new from this RIC-k Astley inspiration.
The RIC-Roll & Rye is made with mango juice, ginger ale, and a mixture of Reservoir's Hunter & Scott rye and wheat whiskeys. He tops it with a Les Parisennes Morello cherry soaked in kirsch, a German cherry liquor. 
Pro tip: When you order this cocktail this week, be sure to get your vocal cords ready. It's not called a RIC-Roll for nothing. 
Michael may be the mixologist, but there's a whole team of distillers researching whiskey at work. That's how we found Shelley Sackier, the Director of Distillery Education. 
"I got into whiskey by accident, which is how I believe so many beautiful relationships start," Shelley said.
Shelley released a new book last month called "Make it A Double." The memoir chronicles her experience as a woman in the whiskey industry. She discovered Reservoir while doing her own hard liquor literature, and had her job created by the team to utilize and bolster her decades of expertise in spirits.
"One of the best parts about working here is finding all the mentorships… I have no bones about calling anybody, any university, any distillery, to learn the hows and whys to incorporate it into our production or practices."
Though she doesn't keep that whiskey wisdom to herself…
"I teach a large amount of classes, primarily to women, because I want them to be able to go on a date, go to a restaurant and confidently look through a drink menu knowing what they like," Shelley said. "They know how to go through the tasting process for any spirit, it doesn't have to be whiskey."
Ready to do your own research? Shelley leads classes at Reservoir such as Nosing and Tasting 101 + the History of Distillation & Bourbon. Look out for class announcements on Reservoir's Instagram. The tasting room is open Wed.-Sat. From 1-9 p.m., with tours available upon request.